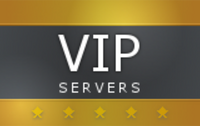 Summary
VIP Servers can be bought for 100R$ / month.
Owners can always join their own VIP Server, even if it's full.
To close a server, create a new one.
In order to configure the VIP Server, you have to join it first via a link.
---
Currently, creating a VIP Server gives you the ability to customise the following settings:
General
---
The name of the server.
A toggle of whether it is Public or not. (If toggled on, then anyone can join through the server list).

Moderators can join, regardless.

The maximum amount of players. (2 - 30)
The Ranks allowed on the server. (None - 60)
Maps and Gamemodes
---
Other
---
The maximum amount of NPCs (0 - 30, Auto)
The maximum amount of players in a party (0 - 30)
A toggle of a Brute limit. (Like a Survival Unlimited server.)
A toggle of exclusive gamemodes. (Limited voting on exclusive gamemodes or not.)
A toggle of mob purchasing cooldowns.
A toggle of the Jetpack.
The Bulletspeed of guns. (0, 900, 1800, 2500)

If set to 0, it will use ray bullets (laser bullets) like R2D 2014.

Toggling Vote Kicking on or off.
Toggle "Use Shards" on or off.

If off, the damaging windows shards will be disabled.

Free For All time limit (3:30 - 10:00, Inf.)
Toggle Instant-Start.

If on, when all players are ready, the game will automatically start.

Toggle Prestige bonus in PvP modes.
---
The Server Owner will also get several perks:
A "Vip" tag will show next to the owners name, even if that person is a moderator.
They can change the map and gamemode to anything to their liking, except Bosses.
They can do the following commands (Commands can only be done on private VIP servers, including music commands. They will not work in public VIP Servers):

kill all
kill [playername]
kick [playername]

They cannot kick moderators+.

warn [message]

The warn command is yellow to distinguish from moderator warns.

play [musicname]
stopmusic
Commands are not hidden.
If commands are used (excluding the warn and music commands), no Round Rewards can be gained. This does not apply if a moderator uses commands.
Tips
To close a server, create a new one.
You can report VIP servers by right clicking on the name and clicking "Report Servername".
Private servers can not be joined through the "Find Player" feature.

If you are not eligible for the server (e.g. not the correct rank), this will also not work.
Trivia
In Debug, the price for a VIP Server is 10R$.
Like normal servers, it can hold three extra players from the decided limit but can support unlimited mods.

Moderators can join any VIP Server through a Modcall.

The Jetpack is the first exclusive item to be allowed on VIP Servers only.
Upon the game being moved to a group game on the 8th of August 2020, VIP Servers were discounted at 100R$ / month for the first week and 250R$ / month for the rest of the month.