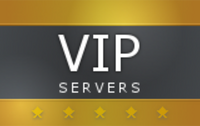 Summary
VIP Servers can be bought for 500 R$ / month.
Owners can always join their own VIP Server, even if it's full.
To close a server, create a new one.
In order to configure the VIP Server, you have to join it first via a link.
---
Currently, creating a VIP Server gives you the ability to customise the following settings:
General
---
The name of the server.

You cannot edit this if you have one criminal record to your name. Moderators are included in this.

A toggle of whether it is Public or not. (If toggled on, then anyone can join through the server list).
The maximum amount of players. (2 - 30)
The Ranks allowed on the server. (None - 60)
Maps and Gamemodes
---
Other
---
The maximum amount of NPCs (0 - 30, Auto)
The maximum amount of players in a party (0 - 30)
A toggle of a Brute limit. (Like a Survival Unlimited server.)
A toggle of exclusive gamemodes. (Limited voting on exclusive gamemodes or not.)
A toggle of mob purchasing cooldowns.
A toggle of the Jetpack.
The Bulletspeed of guns. (0, 900, 1800, 2500)

If set to 0, it will use ray bullets (laser bullets) like R2D 2014.

Toggling Vote Kicking on or off.
Toggle "Use Shards" on or off.

The damaging windows shards will be disabled.
Tips
To close a server, create a new one.
You can report VIP servers by right clicking on the name and clicking "Report Servername".
Private servers can not be joined through the "Find Player" feature.

If you are not eligible for the server (e.g. not the correct rank), this will also not work.

More customization and Greenlight Maps are to be added, so stay tuned!
Trivia