Disclaimer
This is more of a fan-made page. Please do not take this too seriously.
Summary
The Skull Riders are a fictional band created for Reason 2 Die: Awakening.
They're created principally to be the main attraction for the Coconut Split Stadium in Harbor Carnival. Some posters that advertise them can be found in Suburbs, District III and Peach N' Spills Resort.
The Skull Riders have no official song made specifically for Reason 2 Die, and this explains why the concert show plays Late - Night Rock during Campaign.
Logo
Members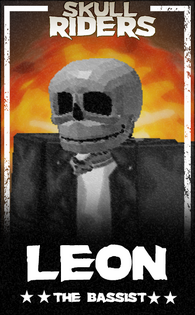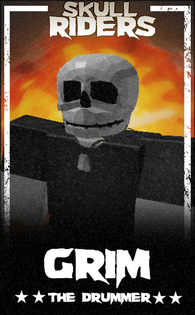 Lineup
Members
Leon "The Bassist": Bass, Backing Vocals
Daniel "The Guitar Player": Lead Vocals, Lead Guitar
Grim "The Drummer": Drums, Percussion
Former Members
Ray: Keyboards, Backing Vocals (Dead)
Shadow: Bass, Lead Vocals
Bill: Drums, Percussion
Skull: Lead Guitar, Backing Vocals (Dead)
Kane: Rhythm Guitar
Songs
First Generation
Ice Hand, Cold Heart
"Dancing Souls"
"Start The War"
Born Killer
"Born Killer"
"Blinded On Chaos"
"No Mercy"
---
Second Generation
Awake Below The Surface
"Buried Alive"
"Piece of Heaven"
"Nightmare"
"Toxicity Line"
"Demons"
Acid Rain From The Riders
"Let The Skull Riders"
"Painted Of Black And White"
"Hard To Die"
"Last Stage"
"Welcome To The Family"
Singles
"Trick Or Threat"
"Hang Corpses For Christmas" (unreleased)
Fairgrounds Tour
July 5 ― Harbor Town, Sunsprings
July 6 ― Darkside Downtown, Sunsprings
July 7 ― Meathwille, Sunsprings
July 12 ― Parallel Town, Paradise
July 18 ― WestCoast, Paradise
July 19 ― Los Paradise, Paradise (Location of Harbor Carnival)
July 21 ― MeathDisturb, Paradise
Posters
Trivia
The Skull Riders are the first band to appear in all Reason 2 Die Series.
The Skull Riders band is based on Avenged Sevenfold and Midnight Riders.
The first appearance of this band in-game was in Suburbs.
The Skull Riders first appearance was on 18 June 2019.
The Skull Riders were created because the creator of this band thought that using PlaceRebuilder or any other real player would be boring and uncreative.
Community content is available under
CC-BY-SA
unless otherwise noted.