Arcane: League of Legends - The Loop
Play Sound
Summary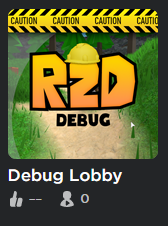 Debug is mainly used to test new updates before they are released to the official version. Everything is tested here, but sometimes aspects are exclusive. This usually means that they were cancelled prior to the update or the servers simply haven't been updated to reflect these changes.
Data does save here, but doesn't carry over to and from the main game.
Gamepasses and Badges carry over to here but cannot be purchased off the Debug Store page.
The Debug game can be found here.
Most bans here do not carry over to the main game, so if for whatever reason you are banned, it's not the end of the world, however, if you are banned here, it is incredibly unlikely you'll ever be unbanned. If you are found exploiting here you will be most likely be banned permanently in the main game. Due to the amount of exploiters, PlaceRebuilder has decided, most of the time, to make Debug closed.
Only Debuggers chosen by PlaceRebuilder are able to test Closed Debug. Debuggers are identified by their role in the R2D Community group. Developers in the R2D Community group can also play Closed Debug.
Differences
Only Debuggers And Developers+ can experience new features found here.

In open versions of Debug, everyone can test new features.

Debuggers are unable to make VIP Servers sometimes.
---
Some codes do not work here.
Dual Primary Weapons allowed to PlaceRebuilder only.
Features are likely to be modified so it's easier to get (for example, infinite zombie levelling).
New weapons will sometimes be able to be purchased and used by lower ranks.
"cgive" command works for Head Moderators+ and, at certain times, Debuggers+, normally during Closed Debug.
You cannot buy Boosters or Gamepasses here.
Exclusive/Discontinued Features