The future is uncertain, nobody can really know what's around the corner, but there's not any harm in being prepared. The P90... An odd looking weapon, powerful and uncertain. Reliable still, having powerful capabilities, yet having such a mag capacity of half an LMG. How did this obscure looking weapon become associated with the good guys? And is it's damage really high, the answer, yes, it really is.
The MP5 was king, a fine delicate, polymer SMG, delivering a comfortable feel, and a devastating blow. Since it's introduction in the 1960s, no other submachine gun came close to Heckler and Koch's offering: and while expensive, if you wanted the best, you bought German. It had a unique slap, and use. A blow action type weapon, a deadly use for the good guys.
However a threat soon arose to it, the threat of Kevlar Armor, and it's ever increasing availability to militaries world wide in the 1970s. It raised concern in the military and polices around the world. In danger of being obsolete, the SMGs had to adapt, They had to beat body armor, yet having the compact body of an SMG, likewise to an AR, or even a BR. A new world class type of weapon, a PDW. In 1986, FN Herstal, a Belgium firearm manufacturing company was put to the test.
They had numerous prototypes, as to be a shoulder rested weapon. Compact, strong, and precise. Most failed, but after many trials, and errors, they've finished. In 1968, the product was done, a bullpup configured weapon. With it's polymer frame, it made it a cheap and reliable weapon. With a magazine coming from the top, holding such a huge capacity of 50 rounds. It could defeat body armor with ease, as it's FN 5.7 x 28mm round was specifically designed for it based off a miniature caliber round. Unlike typical pistol rounds, used for an SMG, this one had a spitzer point, and a higher relative charge instead of a squat form and rounded tip.
The powerful, and fearful P90 was born. After in trial, another competitor would shortly come after. H&K, the original designers of the MP5, were ready to create another prototype, to beat the P90 out of the show. The MP7 was created in sheer strength to combat the P90, as they had to focus solely on that, after the ambitious G11 project came to a halting stop, as for West Germany's defense spending had to look elsewhere. The MP7 may use a smaller caliber, and is more relatively compact, the winner was finally decided. The P90. It's rate of fire is standard of an SMG, stopping power of a rifle. It was mixed for success.
After winning the show, it was perfectly ready to hit the silver screen. Numerous appearances, such as Stargate SG-1, showcasing on how to use it, as numerous other movies, shows, and games used it. The first game that showcased it, could be Golden Eye-007, as it was the earliest depiction of it. Why not being the most accurate, it was the first. It has gained many popularity in other games, such as CS:GO, as it is associated with Rushing B, a tactic for Russian players, and if there are no more options reserved left for Professionals.
A gun in R2DA, it was fairly popular. Associated just like CS:GO instead to the high rank players, as a gun used for grinding, and is for the skilled of skilled players. This gun was to be reckoned with. It may have had a costly price, but if you wanted the best, you would always have to pick Belgium. They may have the best chocolate, beer, waffles, but they always have a spot for one of the best guns.
The best guns, are always the unexpected ones, the P90 is no exception, a powerful caliber weapon, clearing crowds with ease. Due to it being used in Police, and Counter Terrorist groups, it's always associated with one thing. The good guys. Just like it's original rival, it always and will have a status for the good. The P90.
P90 Prototype Fig. 1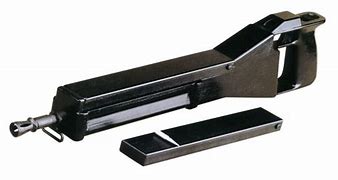 P90 Prototype Fig. 2