Summary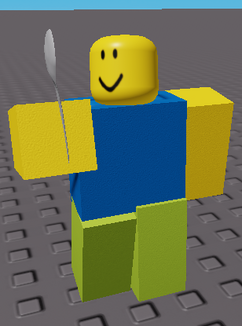 spoon
kudos if u wanna see in game
Skins will be located here including:
Hot
Electric
Shiny (to be removed)
Golden
Shadow (coming very soon)
Background Story
Survivors once came upon a massive food court and found spoons. Metal spoons. They soon realized that these spoons were dangerous, and could kill zombies with enough effort. Survivors learned to charge at people with spoons, hence giving them a speed boost.
Item Info
Damage: 5 Hit Rate: 0.2
Stamina: 2
Ability: +5 speed when held, costs 1 stamina per second while moving, does not affect normal stamina regeneration (this stamina nerf will be taken away if enough ppl decide on it)
Ability #2: can dig up random items excluding jetpacks and medkits. Defibs are allowed to be taken up, and just about every other non-backpack item. Digging time takes 15 seconds on land (not on a roof lmao) and it takes away 75 energy, along with a 3 minute cooldown. When holding the spoon, a timer on a moveable gui displays the amount of time left until you can get another item.
Cost: 7,750$ (April Fools day only)
Rank: N/A
Trip: yes
Tips
Use to run away from hordes
do not use as a weapon
Pros
Low stamina costs
Gives speed
Cheap
Cons