Hello R2DA players! Today I came with the idea that includes the "item" that is hiding in the Red Gift. This item is a mount. I'm thinking about a penguin because it works pretty well with the winter/christmas theme. The penguin should be unique in its way as most of the other mounts are.
I'm thinking that we would ride it normally, but if we RIGHT CLICK the penguin goes on his belly and slides using his wings and that should make it move really fast for about 7-10 seconds. Slightly faster than sprinting. Also I think it should have a double jump, and gliding down, like a ducky, since they are both birds.
Speed: 20. When sliding: 35.
Jump: 65.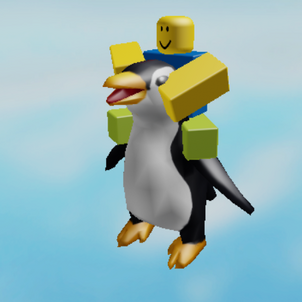 The penguin should be smaller, but you get the point. -------->